'Comfort food'. To me, that's always conjured up feelings of warm but heavy food. Perhaps its due to a heritage where potatoes and bread accompany nearly every meal, sometimes together (chip butty anyone?). 'Comfort food' means pasta, jacket potatoes with piles of butter and cheese, slabs of french toast, hash browns, and - of course - stew. Soups, however, are typically the one dish which falls outside of this 'heavy' category, and as the days get a little cooler here in Perth, I'm drawn once again to comfort foods and soups in particular.

Soba is traditionally served either cold with a dipping 'sauce' or hot in a soupy broth like in this recipe. I like it either hot or cold, but, with my desire for some 'comfort' in this dish, I opted for a hot soup with pan-fried salmon and spring onions. The broth here is water-based, although other recipes suggest a chicken-stock base. My decision was based solely on having forgotten to buy chicken stock (and having none in the house).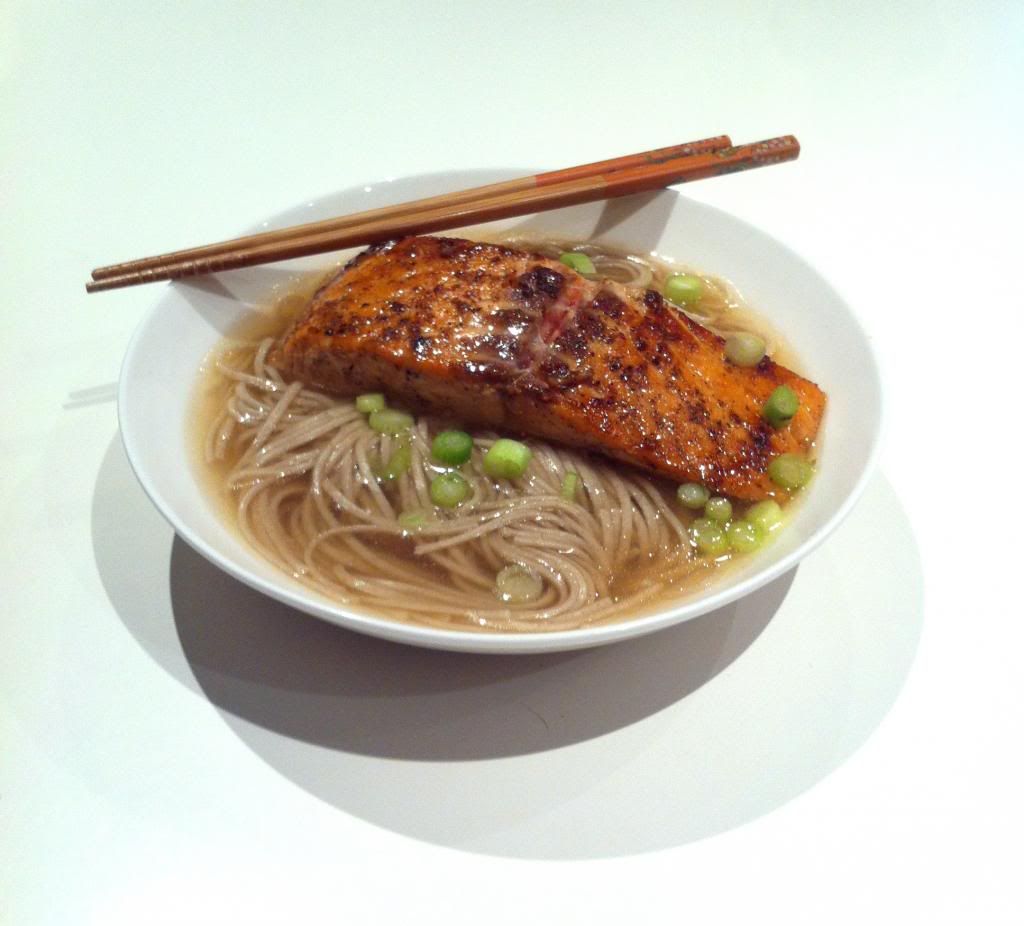 Serves 2. 1-2 hours marinading time & 20 minutes cooking time.

For the salmon:
2 fillets of salmon
2-4 tablespoons honey
2-4 tablespoons soy sauce
Lots of black pepper

For the noodles:
180g dried soba noodles
4-5 spring onions
2 large slices fresh ginger
5 cups water
1 tablespoon mirin
2-3 tablespoons soy sauce
1 teaspoon sesame oil

Around 1-2 hours before cooking, place the salmon in a bowl and cover with the honey, soy sauce and black pepper. Put aside to marinade.
In a saucepan, bring to the boil the water, mirin, soy sauce and sesame oil, along with half of the spring onions (chopped finely) and the ginger. Simmer for 10 minutes.
With 5-10 minutes before serving, heat a pan of sesame oil and place the salmon in. Cook to your personal preference, I like my salmon soft and light pink on the outside but fleshy and deeper pink on the inside which takes around 7 minutes on a hot ring.
Remove the ginger slices and add the soba noodles from the broth and add in the soba noodles. Bring the pot to the boil again and then let simmer for around 4 minutes.
Serve up the noodles and soup in bowls, adding the remaining chopped spring onions as a garnish. Finally, place a salmon fillet on top.